Interscholastic Sports

The athletics program at Rocky Mount Academy encourages students to be doers rather than spectators. Athletics promote competition, physical conditioning and cooperation, and are an important component of student life. By participating on any of the 28 athletic teams, our students learn discipline, teamwork and sportsmanship.
At Rocky Mount Academy more than 94% of students in grades seven through twelve participate on one or more athletic teams. Many of our student-athletes have distinguished themselves in regional, state and national competition. We have had scores of student-athletes garner All-Conference, Conference Player of the Year and All-State honors. Through hard work and determination we have had student-athletes who have gone on to participate in NCAA sports on the Division I, Division II and Division III levels.
In recent years, our athletic teams have successfully competed in conference and state competitions. The school is a member of the North Carolina Independent Schools Athletics Association (NCISAA) and the Carolina Independent Conference (CIC). Our football eight man conference is the Carolina Colonial Conference (CCC). We participate in the 2A classification in state playoff competition.
Athletics COVID Procedures
Updated February 26, 2021

Updated November 13, 2020

Updated September 1, 2020.
As of March 24, 2021
Rocky Mount Academy will allow all RMA students and their immediate family (i.e., parents, siblings, grandparents) to attend sporting events held on our campus (indoor and outdoor).
Rocky Mount Academy will allow visiting team spectators to outdoor sporting events at this time.
Rocky Mount Academy will adhere to our current COVID screening protocols at sporting events (including proper social distancing and face coverings).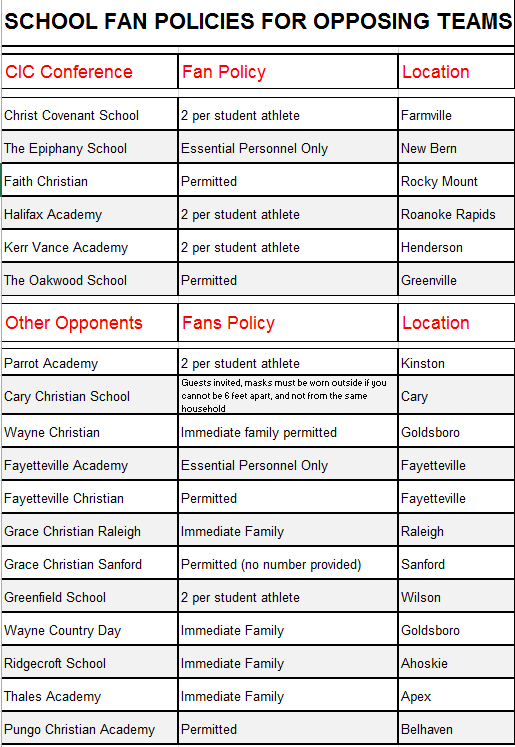 Big Teams Web Site/ Printable Schedules
Rocky Mount Academy now hosts all athletic events on www.rmaathletics.org. Create an account to print schedules, receive text alerts on game changes, and sync the schedules to your calendar or phone.
Order RMA Sports and Fan Gear
Sun

day

Mon

day

Tue

sday

Wed

nesday

Thu

rsday

Fri

day

Sat

urday